Blair's Downtown – Block 37
Lots 16-21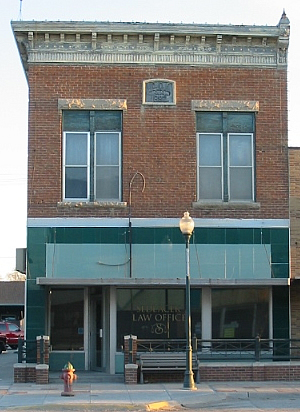 IOOF Building – Click for more information

1886 – Cigar Factory on Sanborn Map
1909 – General Store on Sanborn Map
1940s – Young Sold to Dave Mummert
1951 – Young's Café
Sold by the Youngs to Frank Cope, and was named Cope's Cafe in the 1950s and 1960s.
1960s – Dave Wulf operated Colonial Corner in former Young's Café space
Blair Clothing
Sedlacek Law Office
IOOF Building
1886 – Cigar Factory on Sanborn Map
1909 – General Store on Sanborn Map
1940s – Young Sold to Dave Mummert    
1951 – Young's Café
Sold by the Young's to Frank Cope, and was named Cope's Cafe in the 50s and 60s. 
1960s – Dave Wulf operated Colonial Corner in former Young's Café space   
Mid 1970s to 80s – Became The Maple Café operated by Wanda? 
1886 -1909 flour and feed (Sanborn Maps)
1930 – barber shop
Shoe repair business? (clarification needed)
2003 – Hall Law offices
1886 – Dry goods and millinery
1889 – Dry goods and clothing
1909 – Confectionary (Sanborn Map)
Blair Maple Cafe
1886 – Millinery and news
1889 – Dry goods
1897 – Millinery, dry goods, and pianos
1902- Millinery and barber
1909- Millinery
1959 – Klopp's Jewelry – Ray Furtak was the jeweler
1997-2002 – DMRJ – Salon and Beauty Supplies Owned by Donna Jones
2003 – Swerve Gallery Kay (O'Hanlon) Young Glassware
Choices Counseling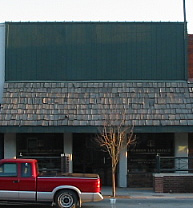 1889 – Barber
1902 – Dry Goods
Rachel Truhlsen Law Office
1909 – Hardware store (Sanborn Map)
1930s – Thone and Farnberg Hardware Store
Burned and rebuilt in 1930s (source: Memory Lane)
1950-1967 – Gambles: Henry Latman sold to Clarence Schreiner.  Frank Reyzlik worked with Schreiner.  When Schreiner was ready to retire, Reyzlik wanted to buy it, but was unable to obtain a loan. Pharmacist Wayne Anderson believed in Reyzlik and fronted him the money. Reyzlik took over in 1967, often working seven days a week thought the store was only open six.  (Pilot Tribune, March 5, 2019)
1967-1972 – Frank Reyzlik (1972 moved to Block 38, lots 29-30) was Hardware Hank, now Ace Hardware
Fabric Village: Kuethers
1990-2001 – Topstitch Fabrics: Carleen and Glen Anderson proprietors  (building owned by Kuethers)
Roach Warrior Training
2006 –  Blair Area Chamber of Commerce
The Beehive (IOOF Building Lot 16) – year unknown
North Side of Washington Street, (Block 37) Note: Lot 21, just to the right of the Ice Cream sign was destroyed by fire just before this photo was taken. Children listed as Palle and Burnett Manne on back of photo.
Washington Street looking east from 17th Street (post 1920 because of brick streets)
1920s – Ice Cream Shop Owned by James Mose (Lot 20)
Farnberg Hardware Store Blair, Nebraska (Lot 21)
Welcome sign for Dana College's Jubilee in 1959 and 1960. Looking northwest down Washington Street. Note that Lot 16 is Young's Cafe, Lot 18 is Cope's Cafe, and Lot 19 is Klopp Jewerly. (Photo courtesy of the Dana College Archives)
Do you have information to share?
Do you have memories of downtown Blair you'd like to share? If so, we'd love to hear from you! Please use the form below or send an email to contact@blairhistory.com.
Blair Historic Preservation Alliance | P.O. Box 94 | Blair, Nebraska 68008 | contact@blairhistory.com