Advocating for the protection and appreciation of Blair's historic assets
Welcome to our online home
As an ADVOCATE, the Alliance seeks to promote public support for the preservation of the city's historic assets by providing networking and informational assistance to owners of historic properties and local heritage preservation programs. It does this by aligning with other community enhancement groups to pool resources and consolidate efforts toward a common and mutual goal. To learn more about our efforts and what you can do to help, please provide your e-mail address for updates from the Alliance.
Get your 2022 calendar!
This year we focus on the seamy side of local history with crimes, murders and general bad behavior that occurred in and around Washington County. The calendar's back cover of headlines hints at deeds ranging from horrible to naughty. Most stories are well documented by newspapers and other reliable sources but some are local lore or stories passed down over the years.
Calendars will be available for sale at the Washington County Chamber of Commerce office in Blair, at the Washington County Museum in Fort Calhoun, and using an order form on this website.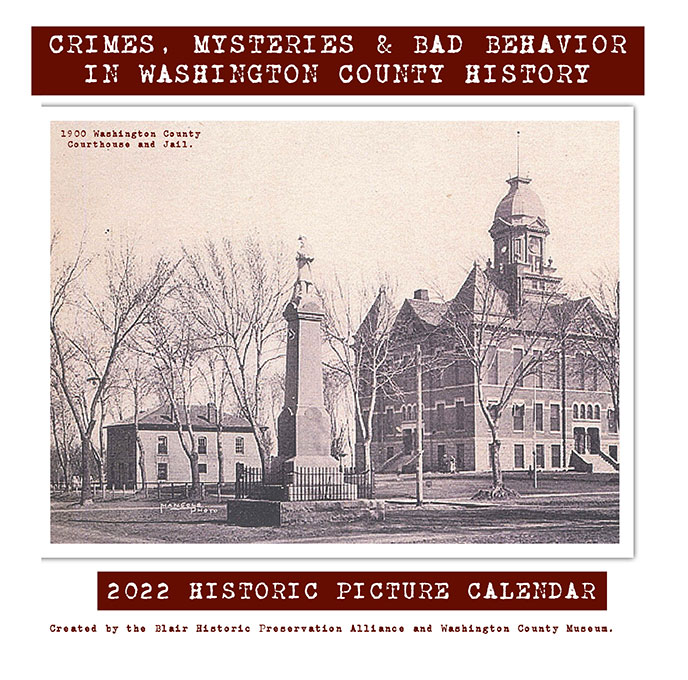 BHPA's Downtown Research Project
The Blair Historic Preservation Alliance seeks to preserve the history of Blair's structures and sites through its Historic Landmark Registry by actively researching and documenting the history of each downtown building. We have collected an extensive set of images and recollections. Please view the project's pages and enjoy a glimpse into Blair's past. 
Do you have history to share?
The BHPA is always looking to increase the information in our archives. If you have pictures or information you would like to share, we would love to hear from you.
Blair Historic Preservation Alliance | P.O. Box 94 | Blair, Nebraska 68008 | contact@blairhistory.com