Blair's Downtown – Block 38
Lots 28-30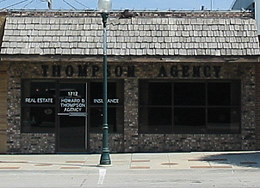 1909 – One story wooden office structure
1923 – wooden structure
Bendix Home Laundry
1973 – Current structure built
Thompson Insurance Agency
Monroe Block was a two story building
Building owned by Wayne Steinbaugh
Max Bain's barber shop was in the front on the west side. The rest of the building housed Steinbaugh's boat and outboard motor business.
Walt Nielsen jewelry store was there in late 1950s
Dick Lippincott was remembering
1920s – P.Z. Wilson's Drygoods and Shoes
1930 – Judge Harold Madsen's Hatchery
1930 – Implement dealership
1940-45 – B.F. Lundt
1950s
Monroe Block building raised and new building constructed.
Appleby's Furniture Store, 1946 (this was still Appleby's at least until the late 1960s and perhaps into the early 1970s)
Early 1970s
Reyzlik's Hardware Hank
Reyzlik's Ace Hardware
Notes:
Gambles Store was run by Clarence Schreiner.
Gambles Store was in the Mayle Building Before Blue Goose Store.
Do you have information to share?
Do you have memories of downtown Blair you'd like to share? If so, we'd love to hear from you! Please use the form below or send an email to contact@blairhistory.com.
Blair Historic Preservation Alliance | P.O. Box 94 | Blair, Nebraska 68008 | contact@blairhistory.com