Gustav A. Rathmann
Pioneer Auto Dealer
By Merri Allen Vinton-2018
The first Ford dealership in Blair was opened by Gutav A. Rathmann in 1910. Gus was born in 1875, in Blair, and was a man of many interests and experiences. As a boy he was an avid hunter and marksman and at one time, after seeing his shooting prowess, John Ringling offered him a job with the circus. He also worked at Higgins Ice Cream Parlor in Blair where he hauled ice from the ice house, crushed it and made ice-cream.
Gus was a blacksmith by trade and worked at several locations throughout Washington and Douglas counties developing his skills. He was particularly popular throughout the nation in his crafting of horseshoes. At one point, over a two-week period, he was creating up to 80 horseshoes daily. In 1900, prior to his entering the automobile business, he owned a blacksmith shop in Kennard which was in direct competition with William Swihart, who later became his father-in-law when Gus married his daughter, Grace. In 1908, he purchased a lot on Blair's main street on which he built and opened his own blacksmith shop.
In 1903, Henry Ford developed a horseless carriage, built mostly by skilled blacksmiths. These carriages were establishing their niche in the marketplace and there were plenty of buyers for them! Undoubtedly, Gus saw another opportunity and took a correspondence course on gas engines and began repairing auto motors.
As the demand for the vehicles in this new and growing automobile industry increased, Gus went from mechanic to auto dealer. In 1910, he purchased an adjacent lot, opened the Ford Agency and began selling the autos through his association with the Ford Agency in Council Bluffs. Two years later, another lot was acquired, and he constructed a brick building at 15th and Washington Street for what became Rathmann Ford Garage. Business was good and horseless carriages were replacing buggies and livery stables. Within the next five years he bought the livery stable next door, increased his property, and expanded his fine brick building.
Gus was a very busy man in those years, but he never lost his interest in hunting and fishing. In the early 1920s he used his Ford resources and his blacksmithing skills to build a 27' long boat powered by a Model T Ford motor. In 1925 he constructed what he called the "house-car"—an early version of a RV, built on a Model T Ford truck chassis complete with extra gears, overdrive, and electric lights.
In the meantime, businessman Frederick W. Arndt was operating a hardware store nearby and with the advent of the automobile, he expanded his business to include the sale of Dodge and Nash autos. His large three-story building easily accommodated a showroom. In 1930, Arndt and his hardware salesman, Leroy Snyder, formed a partnership and purchased Gus Rathmann's Ford Garage around the corner from the hardware store. They named the dealership Arndt-Snyder Motor Company, but Gus retained ownership of the building.
After many years in the automobile business Gus moved with his family to a farm north of Blair. The "house-car" he had assembled years earlier—complete with built-ins for all of the camping essentials, allowed the family to spend summers traveling a five-state area.
The Ford dealership was sold to Robert Templeton in 1941, who had the franchise during the war years. The R.B. Templeton Ford dealership was sold to the John Leehy family in 1958. It was owned by Lyle Bliss for a short period of time, when in 1963, it was sold to the Sapp Brothers and the agency was moved from the Washington Street location to a larger expanse on the south edge of Blair. In 1977, it was purchased by Bob Woodhouse and became Woodhouse Ford.
Gustav Rathmann, early Blair businessman, entrepreneur, sportsman, family man, and pioneer auto dealer died in 1962, at age 87.
Above is Rathmann's first Ford dealership. (Prior to 1912)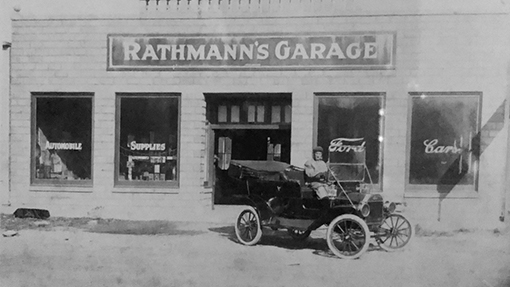 Above is Rathmann's 1912 brick building.
Above is Rathmann's brick building on July 4, 1913. It shows the livery stable next to it.
The above picture was taken in 1917 after he bought the livery stable and enlarged the brick building.
Above is the "house-car" taken in 1926. Subjects are Gustav & Grace Rathmann, their daughter, Marguerite and one of her older brother—either Curtis or Norman.
Do you have information to share?
Do you have memories of downtown Blair you'd like to share? If so, we'd love to hear from you! Please use the form below or send an email to contact@blairhistory.com.
Blair Historic Preservation Alliance | P.O. Box 94 | Blair, Nebraska 68008 | contact@blairhistory.com